A trip to Ilha de Moçambique
Juni 11th, 2009
ILHA DE MOÇAMBIQUE (Island of Mozambique) is a small, beautiful, coral island located in the north of Mozambique on the Indian Ocean. Until 1898 the island's fortified town served as the capital of Portuguese East Africa, being afterwards replaced by the city of Lourenço Marques (today: "Maputo"). In 1975 Mozambique became an independent state. in 1991 the Island of Mozambique was declared an Unesco world heritage site. In may I spent a day in Ilha de Moçambique and must say that it was one of the most exciting and important trips I have ever made…
The island is a huge open air museum. You can feel yourself transferred 300 years back in time and imagine walking among the early settlers, soldiers, pirats, business men etc.. It's living history. The island and its natural harbour were used by Arab merchants as a maritime trading centre from the 10th to the late 15th century. The Portuguese explorer Vasco da Gama, who landed on the island in 1498, claimed it for Portugal. The exceptional mixture of the architecture on the island shows diverse Arab, Indian, and Portuguese influences.
I want to describe now – in PORTUGUESE LANGUAGE – what I saw and whom I spoke with in the "Ilha". Sorry to all of you who don't understand portuguese…
Em maio de 2009 passei um dia bem passado, na Ilha de Moçambique, aproveitando uma viagem de pesquisa na cidade de Nampula, capital da Provínica de Nampula, a que pertence também a Ilha de Moçambique. Posso dizer que foi uma das viagens mais impressionantes dos útlimos tempos. Leiam – então – o que fiz na Ilha de Moçambique, quem encontrei e sobre que conversei com as pessoas….
De Nampula à Ilha de Moçambique são 170 km, salvo erro. A Ilha está ligada ao continente, por assim dizer, através de uma estreita ponte de três quilômetros de comprimento, construída nos anos 60.
Uma vez atravessada a ponte, abre-se, perante nós, um cenário impressionante… Uma ilha de dimensão pequena mas de uma monumentalidade enorme: é caso para dizer: aqui respira-se história, ao som dos rítmos típicos dos grupos de mulheres, a que aqui chamam tufo e que são reflexo das culturas que aqui se cruzaram ao longo dos séculos: makuas, árabes, portugueses, holandeses, franceses, indianos, chineses, entre outros…
E os habitantes da Ilha estäo conscientes da sua grande história. É o caso de Seidi Amade, de 22 anos de idade e natural desta cidade e que tenta ganhar alguns meticais, oferecendo serviços de guia turístico.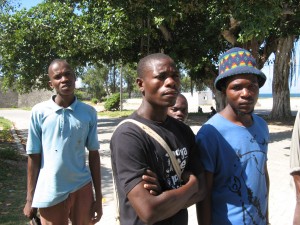 Seidi – com algum sentido de oportunidade de negócio – vem imediatamente ter comigo, pois sou o úmico estrangeiro, nesta solarenga quinta-feira, de Maio. Em Agosto virão muito mais turistas…
As primeiras palavras de Seidi Amade:
"Agora em maio não há muitos turistas. No mês de agosto vêm muitos europeus que saem de Portugal e também alemães. E eles quando chegam aqui à Ilha aproveitam para conhecer o jardim da memória que era o ponto de saída dos escravos, depois aproveitam para ir ao mercado central, depois väo à casa de Vasco da Gama, depois väo à estátua de Vasco da Gama e de Luis de Camos, depois vão ao forte de S. Sebastião, depois väo conhecer o Palácio de S. Paulo e depois os três museus que é o museu da marinha, o museu de arte sacra e o museu de S. Paulo…"
Agradecido com esta primeira lista dos sítios a não perder na Ilha de Moçambique, dirigimo-me a uma das primeiras casas, mesmo ao lado da estátua do poeta Luis de Camões, que terá aqui abarcado numa das naus comandadas por Vasco da Gama.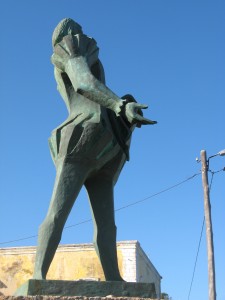 É aqui que funciona a Rádio Comunitária da Ilha de Moçambique, onde marcámos encontro com o responsável, Amade Ismael…
Amade Ismael recebe-me com um caloroso aperto de mãos e as seguintes palavras:
"Para mim é um grande orgulho viver nesta cidade patrimonial… pois já não é apenas a minha cidade mas é a cidade de todo o mundo, pois foi declarada pela Unesco património cultural da humanidade… é, por isso, meu orgulho eu ter nascido nesta ilha…"
Amade Ismael, 48 anos de idade, ama a sua ilha natal. É certo que passou grande parte da sua vida fora dela – foi funcionário das linhas aéreas de Moçambique, viveu muitos anos em Maputo e alguns em Lisboa. Mas o sonho era sempre regressar à Ilha. E foi isso que fez. Hoje é um dos habitantes mais empenhados na preservação da Ilha.
18 anos depois da classificação – em 1991 pela Unesco – da Ilha de Moçambique como Património da Humanidade, como se tem desenvolvido a cidade? Será que o riquíssimo património arquitectónico foi preservado, para que as próximas gerações dele possam disfrutar? Pergunta que colocamos a Amade Ismael…
"A Ilha de Moçambique sofreu com dois ciclones… os monumentos foram caindo, é o caso da fortaleza, por exemplo, que sofreu uma intervensäo… mas há por aqui muitos outros monumentos precisam de intervencäo urgente…"

De facto, à primeira vista qualquer visitante da Ilha pode confirmar que quase todos os monumentos da cidade ou já estão em ruinas ou precisam urgentemente de obras. Mas a decadência não é susceptível de destruir o inigualável charme desta pérola do oceano índico.
O certo é: quando se aceitou que a Ilha de Moçambique integrasse a lista da Unesco do Património Mundial, o que se pretendia era que este sítio fosse preservado, para que futuras gerações também pudessem usufruir das suas belezas….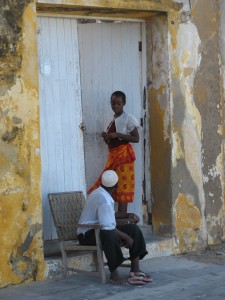 Actualmente vivem neste pequeno território, de apenas 1500 metros quadrados, 17 mil pessoas, sabendo-se que – em condições normais – apenas 6 mil habitantes teriam espaço para ali viver… Quem conhece o problema é Amade Ismael…
"O maior problema é o facto de haver demasiados habitantes na ilha. As pessoas até fazem necessidades ao céu aberto, mas qualidade de vida tem todas as tendencias de melhorar."

De volta às ruas da ilha, reencontro Seidi, o jovem guia de 22 que se queixa da falta de turistas, e elogia o carácter dos habitantes da sua cidade…
"O pessoal da ilha é muito simpático, näo é como em Nampula ou no Maputo. Aqui as pessoas têm orgulho mesmo de se comportarem bem com os visitantes, turistas ou vizinhos… Trata-se de um meio pequeno, somos todos uma família."
De facto, na Ilha de Moçambique vive-se num ambiente pacífico, calmo e pacato… Um ambiente de tolerância entre culturas, etnias e religiões, num território com uma esmagadora maioria islâmica… Junto às praias comunica-se
fácilmente com os pescadores locais.

Os habitantes são de uma simpatia contangiante e evidenciam um espírito aberto e hospitaliero: Um deles: Amissi Seidi Mandu, pescador de 78 anos de idade,,,
Seidi Mandu conta:
"Eu sou um grande pescador, muito peixe aqui na ilha, peixe petra, mazungo, n'kusi, tem sardinha, eu costumo ter aqui na ilha…"
A pesca e o turismo são, pois, os dois sectores, em que apostam as gentes da cidade, confirma Seidi Amade, o jovem guia turístico…
"Cá na ilha näo temos fábricas. Aqui o pessoal vai à pesca, há camarão, lagosta, peixe petra, lula: vários peixes de qualidade temos aqui na Ilha de Moçambique."
Seidi continua: "E nós estamos a depender também de vocês turistas que vêm visitar a ilha… e a gente faz panelas de barro, colares de prata, conchinhas, a gente apanha búzios para vender, compra marfim em Nampula ou em Cabo Delgado, a gente faz pulseiras, faz colares.,.. para revender… portanto é isso que temos aqui na ilha."
O potencial na área do turismo é enorme, mas os problemas económicos são evidentes. Os negócios não correm lá muito bem. A entrada da Ilha de Moçambique na lista do Património Mundial da Unesco há 18 anos, criara grandes expectativas, que – por vários motivos – não se concretizaram. Mas: o optimismo é uma das virtudes das gentes naturais desta cidade. Amade Ismael, da rádio comunitária, não é excepção…
"Eu espero, daqui a 10 anos uma explosäo no turismo na Ilha de Moçambique… o meio ambiente também vai melhorar, isso vai contribuir para que possamos recuperar a performance turistica da ilha de mocambique…"


O navegador português, Vasco da Gama, chegou, em 1498, à Ilha de Moçambique. A história na altura já era antiga, na ilha existia uma povoação suahili, habitada por árabes e makuas. Mais de 500 anos depois, a história continua…
Ouçam a reportágem audio:
Audio clip: Adobe Flash Player (version 9 or above) is required to play this audio clip. Download the latest version here. You also need to have JavaScript enabled in your browser.